The Courageous Class 2021
---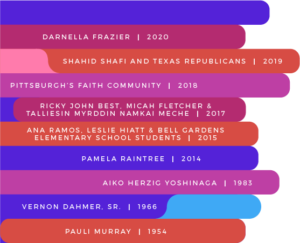 Each year, the Museum of the Courageous celebrates stories of courage by honoring individuals who have taken a stand against hate.
The members of the inaugural Courageous Class inspire us to work unceasingly to ensure that  America's culture and its institutions reflect the ideals of justice and equality. Some have dedicated their lives to the pursuit of equality, some have corrected historical injustices, and others have refused to stay silent in the face of hate.
All have bent their communities and our country toward justice.
Our Selection Process
The Courageous Class is selected from hundreds of stories we collect each year. Our team of co-founders, writers, researchers, lawyers, and activists seek to highlight the most compelling, inspiring, and relatable stories across America that show the many ways that we can all stand up to hate. 
Three principles guide our selection process:
Find Stories that are Untold or Under-told.
We amplify stories of standing up that deserve wider recognition.
Reflect America
We lift up courageous acts that exemplify the American ideals of justice and equality.
Inspire Action
We share stories that will inspire others to take a stand against hate.